Better Technology For Better Patient Care
Lumenis® is a global leader in medical lasers and light-based technologies and continuously develops state-of-the-art products that redefine treatment performance.
The primary principal behind lasers and light based technologies is selective photothermolysis (abbreviated SPTL) which is the ability to target specific chromophores (light-reactive elements) such as blood, melanin, or water using a specific wavelength or color of laser or light source. In hair removal treatments, for example, the laser targets the hair follicle (melanin chromophore) while leaving the surrounding skin (water chromophore) and blood vessels (hemoglobin chromophore) unharmed.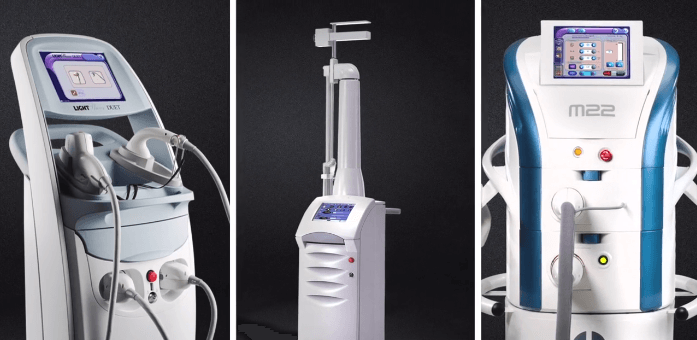 IPL (Intense Pulsed Light)

Lumenis offers a unique IPL solution with optimal efficacy, safety and ease of use. Optimal Pulse Technology (OPT™) gives users the ability to control the pulse shape. It provides reproducible results as well as gentler, more comfortable treatments. Universal handpiece with nine ExpertFilters™, enables treatment of a myriad of conditions with a single, versatile and cost effective handpiece.

Ablative Lasers (CO2)

Lumenis® offers two state-of-the-art CO2 laser devices: the UltraPulse® and the AcuPulse™. Both use high-power-short duration pulse technologies that maximize the treatment and patient comfort, as well as minimize downtime. Lumenis' CO2 laser devices optimally treat a broad range of conditions from gentle superficial treatments to deep contracted scar revision.

Diode Lasers

Lumenis' LightSheer diode technology efficacy has been proven in extensive clinical trials and long-term clinical practice. The LightSheer uses high-power diodes that delivers high fluence in two wavelengths (805nm and 1060nm). This is combined with user-select pulse duration, effective contact cooling or vacuum assisted technology.

Long Pulsed Nd:YAG

Lumenis® long pulsed Nd:YAG laser is available as part of the M22™ multi-application platform. By utilizing the same power supply for both the IPL and the Nd:YAG laser, Lumenis is able to provide more treatment versatility in a single platform. Multiple Sequential Pulsing (MSP™) is available in both the Nd:YAG and the IPL modules on the M22™ platform. MSP™ allows for cooling between a sequence of pulses which protects the epidermis and allows for safe use of higher fluence. The MSP™ offers safe treatment of all skin types, including dark skin, and significantly reduces side-effects in treatment of vascular lesions.

Non-Ablative Lasers

The ResurFX™ laser is the only true fractional non- ablative technology. Unlike other fractional technologies, ResurFX™ only needs one pass to be effective, saving time and protecting the patient's skin. ResurFX™ uses a 1565nm fiber laser and an advanced scanner, which enables the user to choose from more than 600 combinations of shape, size and density options, for optimal treatment results. The ResurFX™ has state-of-the-art CoolScan™ scanner for non-sequential scanning. The CoolScan™ scanner uses a proprietary algorithm that controls the placement of each fractional spot. This protects the tissue from heat accumulation and overheating. Moreover, the ResurFX™ handpiece is equipped with continuous contact cooling to increase patient comfort during treatment.

RF MICRO-NEEDLING

Lumenis offers precise Micro-heating of focal points with VoluDerm™ RF-assisted thermal ultra-thin electrodes for skin regeneration. Using the thinnest electrodes in the market (ø 0.15 mm), this smooth RF-assisted ablation means reduced downtime – without compromising efficacy. Suitable for all skin types.

Efficacy is improved when combined with TriPollar® RF technology in Lumenis' clinically proven and tested combination therapy for the face: Legend M2TM.

RADIO-FREQUENCY

Lumenis offers TriPollar® RF: it safely delivers focused RF energy for collagen remodeling and wrinkle treatment by using low 1MHz frequency. Its controlled high density energy field forces the electrical current deep into the skin, with effective heating due to the electrode configuration and rotating polarity algorithm.