REACH DIFFERENT SKIN

LAYERS

WITH

OptiPLUS'

NOVEL DUAL FREQUENCY

RF

TECHNOLOGY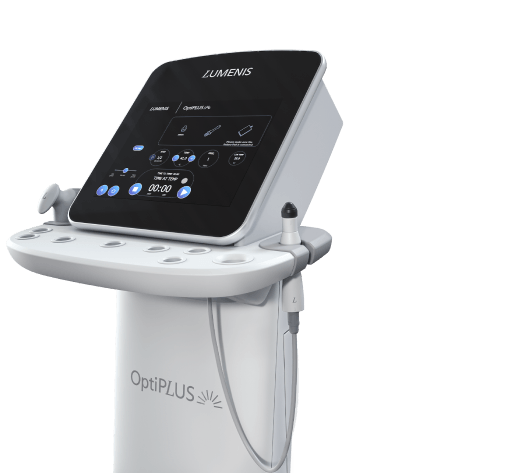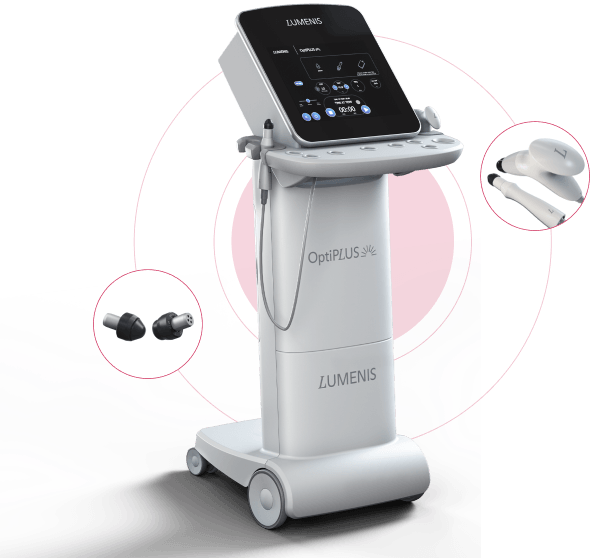 Embedded treatment presets and automatic electrode detection
Electrodes dedicated to
small areas
Innovative, FDA-cleared, dual frequency RF technology that seamlessly integrates into your workflow. Now, you can precisely reach different skin layers to enhance blood circulation, collagen production and target meibomian glands.1,2
The powerful pairing of OptiLIGHT and OptiPLUS unlocks the potential of two dedicated, innovative devices for advanced expertise, patient comfort and safety, as well as revenue boosting. Complement your treatments, improve meibomian glands function and upgrade aesthetic possibilities to offer your patients the solutions they can trust.6
DUAL FREQUENCY
RF
TECHNOLOGY
Precisely deliver heat across several skin layers, improve meibomian glands functionality and enhance collagen production. 1,2,6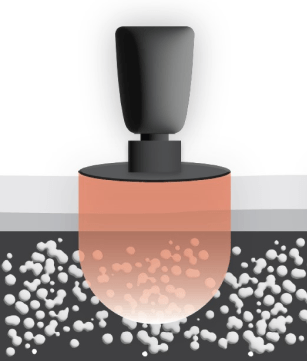 1MHz
Deep heat delivery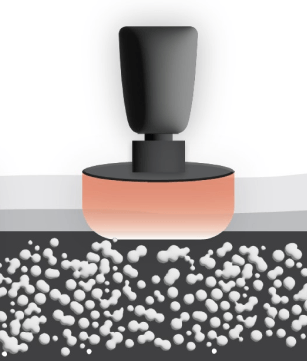 4MHz
Enhanced collagen production
Actual depth may vary from area to area and according to tissue impedance
Actual depth may vary from area to area and according to tissue impedance
ELEVATE PATIENT CARE WITH
FDA-

CLEARED DUAL FREQUENCY

RF

TECHNOLOGY
EMPOWER YOUR PRACTICE
WITH THE ADDED

BENEFITS

OF OptiPLUS
Groundbreaking dual frequency RF technology
Precisely deliver heat across several skin layers, to both target the meibomian glands and enhance collagen formation. 1,2
Enhanced clinical results
Leverage the pairing of dual frequency RF and OPT™ technology to significantly improve the number of expressible meibomian glands, meibum clarity and symptoms.6
Expanded Aesthetic benefits
Unlock aesthetic advancement and enhance collagen synthesis for facial skin rejuvenation.1,4
Unique monopolar application
Enhance patient safety and comfort with a unique monopolar electrode that ensures optimized contact with every delicate curve in the peri-orbital area.3,5
Revolutionary dedicated RF device
Boost productivity, expand your line of treatments and add a new revenue stream with the added expertise of a dedicated device.
DRIVEN BY
EXCELLENCE

,

BACKED
BY SCIENCE: PEER-REVIEWED
CLINICAL STUDY RESULTS*
Pairing of dual-frequency RF and IPL+MGX improves signs and symptoms of MGD.6
IMPROVES OCULAR SURFACE DISEASE INDEX (OSDI)6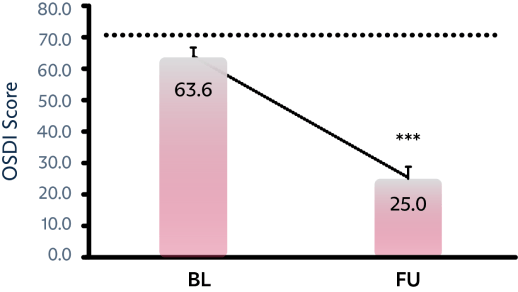 IMPROVES MODIFIED MEIBOMIAN GLAND SCORE (mMGS)6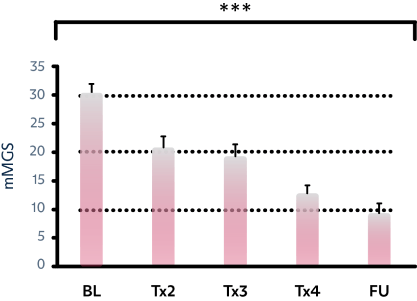 *The clinical study referred here was conducted with Lumenis IPL with OPTTM and Lumenis dual frequency RF technology.
TAILORED SOLUTIONS FOR


ADVANCED PATIENT CARE
OptiPLUS delivers ease of use with two handpieces, carefully designed for ergonomic comfort and customized treatment applications.
Diverse Skin Type Coverage
Leverage the versatility of OptiPLUS and treat a wide range of skin types with confidence, providing significant improvement in eyelid appearance.6
Safe, Effective Treatments
Experience enhanced safety and effectiveness with the science of temperature control, and provide targeted treatments with pre-embedded settings based on a clinically validated protocol.6
OptiPLUS easily integrates into your workflow with minimal training and set up. Treatments are typically around 6 minutes per side, with noticeable results in just 4 sessions.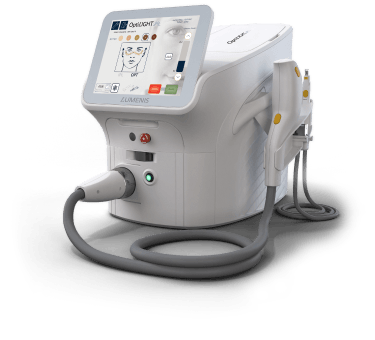 EXPERIENCE
THE


LUMENIS DIFFERENCE
Take the next step in your professional and clinical success with the innovators who brought you IPL for dry eye.
Lumenis is your trusted ally in your journey to professional development, clinical success, and business expansion, while setting the highest standards in eye care for years to come.
Meet the first and only FDA-approved light therapy for dry eye management. OptiLIGHT's patented OPTTM technology targets the root cause of DED and breaks the vicious cycle of inflammation.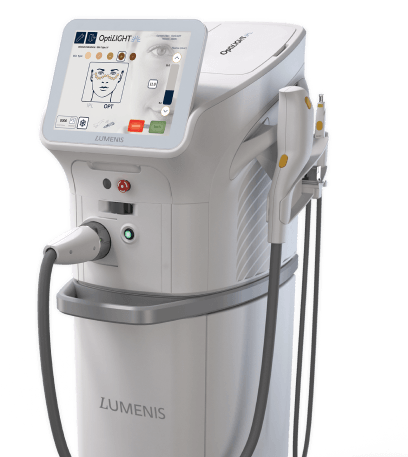 DISCOVER
NEW POSSIBILITIES
With the powerful pairing of OptiLIGHT's patented OPT™ technology and OptiPLUS' innovative dual frequency RF technology.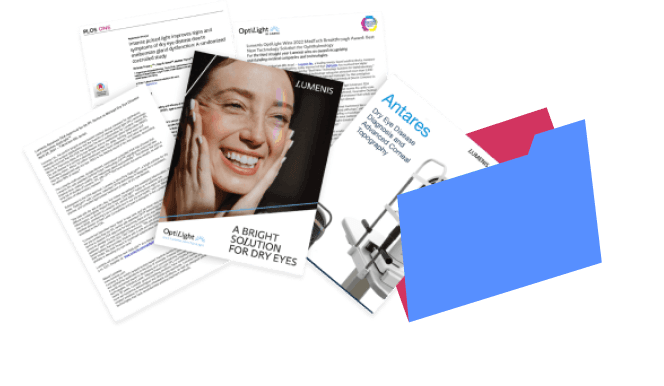 FocalRF Emission Frequency (±1%)
470 kHz, 1 MHz, 2 MHz, 4 MHz, 6 MHz
Maximum Output Power (±10%)
Automatic treatment presets, NuLogic & Manual
100-240 Vac; 50/60 Hz; 350W
127x55x60 cm (HxWxD) / 49.9 x 21.6 x 23.6″
Capacitive Coated Electrodes*
ø10 mm, ø20 mm, ø30 mm, ø40 mm, ø60 mm, ø70 mm, ø80 mm, ø100 mm, ø40 mm with massage
*OptiPLUS ø 10mm and ø20mm electrodes are received complementary with the system. Other electrodes can be purchased separately for upgraded aesthetic configuration.
Javate RM, Cruz RT Jr, Khan J, Trakos N, Gordon RE. Nonablative 4-MHz dual radiofrequency wand rejuvenation treatment for periorbital rhytides and midface laxity. Ophthalmic Plast Reconstr Surg. 2011 May-Jun;27(3):180-5. doi: 10.1097/IOP.0b013e3181fe8e5a. PMID: 21283035.
Rabkin JM, Hunt TK. Local heat increases blood flow and oxygen tension in wounds. Arch Surg. 1987 Feb;122(2):221-5. doi: 10.1001/archsurg.1987.01400140103014. PMID: 3813871.
Malanga GA, Yan N, Stark J. Mechanisms and efficacy of heat and cold therapies for musculoskeletal injury. Postgrad Med. 2015 Jan;127(1):57-65. doi: 10.1080/00325481.2015.992719. Epub 2014 Dec 15. PMID: 25526231.
Al-Atif H. Collagen Supplements for Aging and Wrinkles: A Paradigm Shift in the Fields of Dermatology and Cosmetics. Dermatol Pract Concept. 2022 Jan 1;12(1):e2022018. doi: 10.5826/dpc.1201a18. PMID: 35223163; PMCID: PMC8824545.
Green JB, Dover JS, Kaminer MS. Tolerability of a monopolar radiofrequency facial skin tightening procedure: An observational study. Cosmetic Dermatology. 2011 July;24(7):327-330
Chelnis J, Garcia CN, Hamza H. Multi-Frequency RF Combined with Intense Pulsed Light Improves Signs and Symptoms of Dry Eye Disease Due to Meibomian Gland Dysfunction. Clin Ophthalmol. 2023;17:3089-3102
OptiPLUS risks and warning (non-inclusive list)
Indication for Use: OptiPLUS is intended to provide topical heating to treat selected medical conditions such as for temporary relief of pain or muscle spasms and to increase local circulation on body and face. The device is also intended to provide, with a massage device, a temporary reduction in the appearance of cellulite.
Treatment with OptiPLUS is contraindicated for patients with the following conditions in the treatment area: OptiPLUS is unsuitable for anyone who is pregnant, has an infection or illness, or is heat sensitive. Treatment over cuts, wounds, piercings, and tattoos must be avoided and areas with injectable fillers and toxins left for a month before treatment. Patients with a metal implant or implanted device (e.g pacemaker) must consult with a qualified physician first. If deemed suitable, the return pad must be placed far away from the implant. Local, oral, or systemic anesthetics cannot be used before or during treatment as patients need to provide regular feedback to ensure their continued comfort. Insulate patients from metal objects, especially any in direct contact (e.g. the bed). A full practitioner consultation is always advisable.
The device is not intended to be used within the orbital rim or on the neck.
The following possible side effects can occur following RF treatments: Moderate burning sensation, burns, erythema, edema, blistering, moderate pain, purpura in exposure area, mild swelling, ear feeling clogged and jaw tightness.
Please refer to the operator manual for a complete list of intended use, contraindications, and risks.