Selective Laser Trabeculoplasty (SLT) for Glaucoma treatment
Laser Procedures for Glaucoma
Maximum flexibility; minimum footprint
The Lumenis Selecta® Trio™ represents the next generation of multi-modality products, offering retinal, cataract and advanced glaucoma therapies in a single platform. The unit's integrated design, enhanced optics system and advanced laser cavity make the Trio one of the highest performing laser products in the market – maximum flexibility with minimum footprint.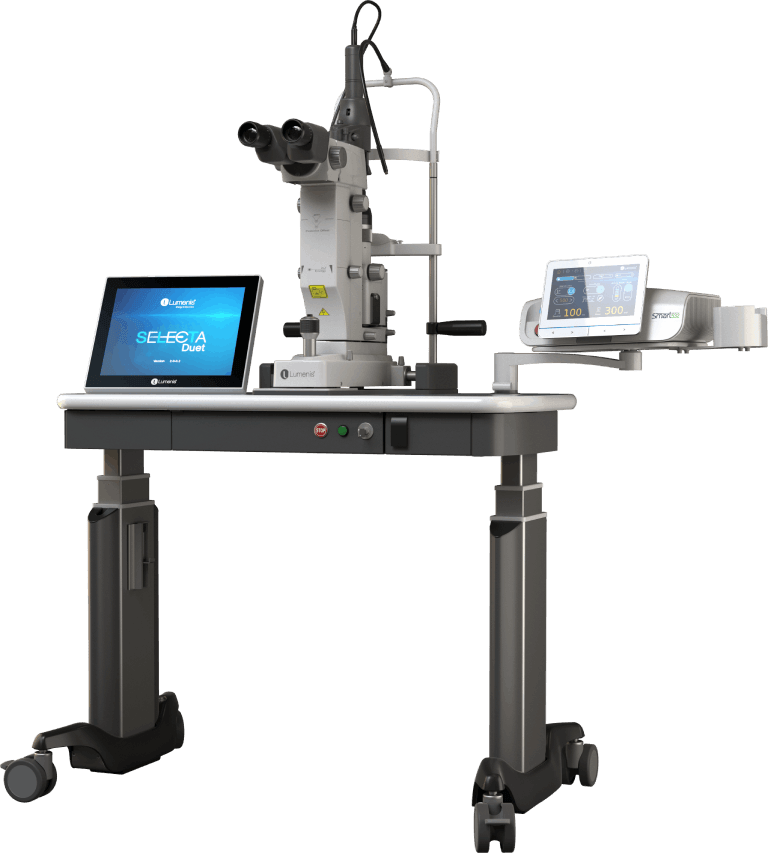 Product Benefits
The Selecta Trio has all of the advantages of the Selecta Duet in SLT and YAG modes – along with proprietary advantages in photocoagulation mode
Homogeneous Laser Beam
Our advanced optics and laser delivery technology features uniform energy distribution across the entire laser spot area for more precise and safer photocoagulation treatment. The result is a homogenous laser spot with evenly distributed power across the full area of the spot, eliminating the potential risk for the formation of "hot spots".

Dual Fiber Port – Instantly switch between delivery devices

Changing delivery devices is fast and easy. The

Novus Spectra

automatically senses the delivery devices connected to it. Laser parameters are adjusted internally to compensate for the chosen delivery device to maintain selected power density on the target tissue.

ClearView™ Filters – Optimized view of treatment site
The Lumenis ClearView™ filters' photopic balanced coating eliminates color distortion of the treatment site while optimizing white light transmission or "brightnes optimizing light transmission. The Selecta Duet and or Trio have a built in Physician Eye Safety Filter, that protect the user from both the YAG and Photocoagulation laser wavelengths.

AcuGuide™ Micromanipulator
Accurate and safe laser beam guidance for fine-tuned laser application on target tissue.

Integrated LaserLink Cradle
Safely and conveniently stow the laser adapter when not performing photocoagulation.
Additional Features
Storage Space
The Selecta table is equipped with built-in compact storage space for lenses or other accessories.
Ergonomic Joystick with EZGrip™ Coating
The ergonomically designed joystick includes a convenient integrated laser fire-switch.
Advanced Adjustable Offset
The Selecta features 3 posterior defocus positions with an adjustable focal point of up to 350 posterior to the aiming beam.
Magnification Changer
The Selecta full Slit Lamp function includes a 6-step magnification changer.
Electronic Height Adjustment
The Selecta table height can be easily adjusted using its electronic up/down switch.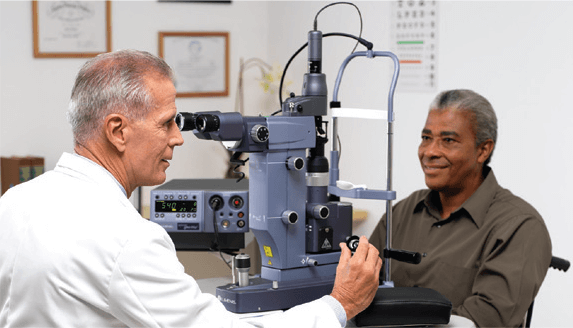 | | YAG Photodisruptor Mode | SLT Mode | Photocoagulator Mode |
| --- | --- | --- | --- |
| Laser Source | Q-Switched Nd:YAG | Q-Switched Frequency Doubled Nd:YAG | Diode-Pumped Solid State (DPSS) |
| Wavelength | 1064nm | 532nm | 532nm |
| Energy (power) | 0.3mJ - 10mJ per pulse | 0.3 - 2.0mJ per pulse, continuously variable in 0.1 increments | 50 - 2500mW |
| Pulse Duration | 3ns (nanoseconds) | 3ns (nanoseconds) | 0.01 - 3 seconds |
| Burst Mode | 1, 2 or 3 pulses per burst (selectable) | Single Pulse | Not Applicable |
| Spot Size | 8 microns | 400 microns | 50 - 1000 on Z-Link; 5-500 on Convrg-Link |
| Cone Angle | 16 degrees | < 3 degrees | Not Applicable |
| Posterior Offset | 0 - 350 microns (continuously variable) | Not Applicable | Not Applicable |
| Repetition rate | 3Hz (in single burst) | 3Hz | Not Applicable |
| Pulse Rate | Not Applicable | Not Applicable | 0.05 - 1 second & Single Pulse |
| Aiming Beam | Red Diode, continuously variable adjustable intensity | Red Diode, continuously variable adjustable intensity | Red Diode, continuously variable adjustable intensity |
| Cooling | Air Cooled | Air Cooled | Air Cooled, enhanced with TEC |
| Electrical Requirements | 100 -240 VAC, 50/60 Hz, 3.15 Amps | 100 -240 VAC, 50/60 Hz, 3.15 Amps | 100 -240 VAC, 50/60 Hz, 3.15 Amps |
| CDRH Classification | FDA IIIb | FDA IIIb | FDA IIIb |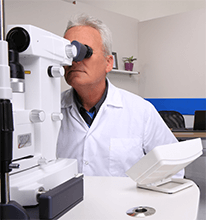 Lumenis First Class Quality
Our passion for opthalmic lasers date back more than 40 years! At Lumenis, we truly understand multi-wavelength photo-coagulation-technology; that is after all only one of the privileges reserved for the foremost pioneer in this field. It is also precisely the reason why the decisive majority of general ophthalmologists and retina specialists around the globe have actively chosen to purchase Lumenis multi-color lasers – making Lumenis the global market leader and the company with the largest installed-base of multi-color ophthalmic laser products worldwide.
Lumenis Ophthalmology Devices