Lumenis Exhibits Innovative Energy-based Technologies and the Launch of PiQo4 at 37th Annual Conference of the American Society for Laser Medicine and Surgery
The most powerful advanced laser technology for tattoo removal and pigmentation.
April 4, 2017 – San Diego, CA, USA
Lumenis Ltd., the world's largest energy-based medical device company for surgical, aesthetic, and ophthalmic applications, proudly announces its newest launch, PiQo4 – the most powerful advanced laser technology for tattoo removal and pigmentation. The technology will be showcased at the 37th annual American Society for Laser Medicine and Surgery (ASLMS) conference in San Diego, CA from April 5th – 9th, 2017.
The Lumenis PiQo4 provides versatile tattoo removal that yields truly remarkable results as it treats a wide range of pigment colors, and has an adaptable energy matrix to ensure effective shattering of pigment deposits. PiQo4 offers dual Nano + Pico technology, a combination of energy types offering the user versatility and the ability to optimize treatment parameters to maximize results. PiQo4 features a unique combination of high power output, four wavelength to target nine of the most common ink colors and the largest spot size on the market, allowing it to effectively reach deep pigments in both new and old tattoos. The introduction of the system signifies an important advancement in tattoo removal technology, enabling the physicians to remove multicolor tattoos in a couple of short treatments.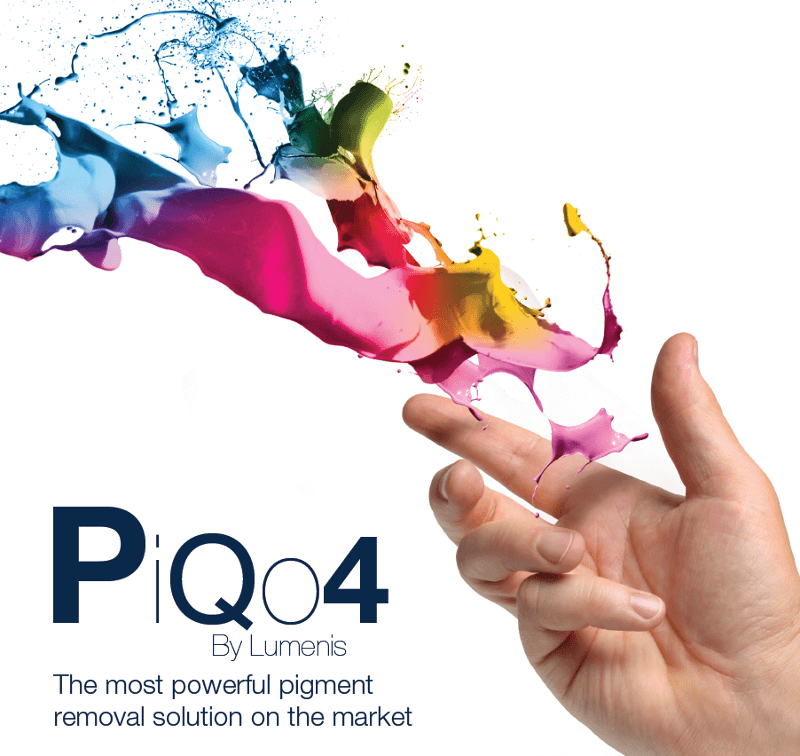 "I'm excited to be able to treat my patients with the new Lumenis PiQo4," said Dr. E. Victor Ross. "Its high power and large spot size is making a significant difference in faster tattoo clearances, and in treating resistant inks – even the deepest pigmented, older tattoos."
PiQo4 treats a wide variety of skin conditions in addition to tattoo removal including treatment of pigmented lesions, lentiginous, cafe-au-lait birthmarks and vascular lesions. The PiQo4 offers a non-thermal option to skin resurfacing and discoloration and with 72% of consumers seeking to correct skin texture and/or discoloration (according to the ASAPS), this latest innovation allows physicians to offer an effective solution to the growing demand in the market.
"As the pioneer of laser technology, Lumenis is proud to lead the way with a new solution in the field of tattoo removal," said Tzipi Ozer-Armon, CEO of Lumenis. "With independent control of spot size, pulse and energy for maximum versatility, PiQo4 yields truly remarkable results and allows us to continue helping clinicians improve the well-being and lifestyle of their patients."
Introducing this latest technology aligns with Lumenis' vision to provide better technology for better patient care through innovative energy-based solutions. In an effort to help scar patients around the world, Lumenis is introducing HopeForScars.com, an online resource intended to provide patients and healthcare professionals with comprehensive information about scars and treatment options available, including the Lumenis UltraPulse®, which is quickly becoming the standard of care for scar patients around the world.
One of the patients who benefitted from the UltraPulse treatment for scars is Kim Phuc, an iconic survivor of the Vietnam War Napalm bombing. Kim was treated by her physician, Dr. Jill Waibel, with the Lumenis® UltraPulse®. On Friday, April 7th, Kim Phuc will be the keynote speaker at "The Kim Phuc Story & The Road to Healing Through the UltraPulse® Scar Revision," a plenary session held in Hall F from 10:30 AM – 12PM. In addition to her session, Kim and Dr. Waibel will also be available for discussion and interviews throughout the conference.
For more information about the Lumenis family of products, please visit the Lumenis booth (#417).
About Lumenis
Lumenis is a global leader in the field of minimally-invasive clinical solutions for the Surgical, Ophthalmology, and Aesthetic markets, and is a world-renowned expert in developing and commercializing innovative energy-based technologies, including Laser, Intense Pulsed Light (IPL) and Radio-Frequency (RF). For 50 years, Lumenis' ground-breaking products have redefined medical treatments and have set numerous technological and clinical gold-standards. Lumenis has successfully created solutions for previously untreatable conditions, as well as designed advanced technologies that have revolutionized existing treatment methods. For more information visit: www.lumenis.com
Forward-Looking Statements
Information provided in this press release may contain statements relating to current expectations, estimates, forecasts and projections about future events that are forward-looking statements. These forward-looking statements may include but are not limited to the Company's plans, objectives and expectations for future operations, including its projected results of operations. Forward-looking statements are often characterized by the use of forward-looking terminology such as "may," "will," "expect," "anticipate," "estimate," "continue," "believe," "should," "intend," "plan," "project" or other similar words, but are not the only way these statements are identified. These forward-looking statements are based upon our management's current estimates and projections of future results or trends. Actual results may differ materially from those projected as a result of certain risks and uncertainties these forward-looking statements are made only as of the date hereof, and the Company undertakes no obligation to update or revise the forward-looking statements, whether a result of new information, future events or otherwise.
For further information, contact 5W Public Relations at Lumenis@5wpr.com.