Endo-Photocoagulation Laser Probes
At Lumenis, we truly understand retinal photocoagulation technology; that is after all only one of the privileges reserved for the company that pioneered the first argon laser photocoagulator for ophthalmology.
Our newest line of premium ophthalmic endo-photocoagulation laser probes was designed with the retina specialist in mind. Advanced manufacturing practices, unique fiber polishing techniques and uncompromising quality assurance methodologies deliver product performance & reliability second to none.
Furthermore, elements of ergonomics incorporated into the design of the LumeProbe hand-piece provide you with proprietary advantages of comfortable grip and easier guidance towards the treatment site throughout the laser procedure.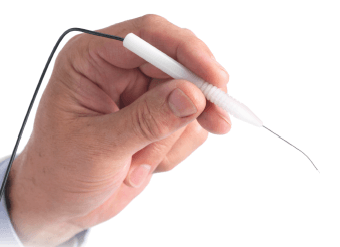 LumeProbe Benefits & Features
Concentric Laser Burns
Advanced optics and laser delivery technology, coupled with sophisticated fiber polishing techniques, deliver concentric laser burns and uniform energy distribution across the entire laser spot area, for more precise and safer treatment. The result is a homogenous laser spot with evenly distributed power across the entire spot, eliminating the potential risk for the formation
Optimized Energy Transmission
Each LumeProbe was designed to be connected directly to a compatible laser port. In light of that, the LumeProbes do not require special adapters when being used with any SMA 905- or 906 connector-based devices, thereby eliminating laser transmission inefficiencies. Connecting the LumeProbe directly into the laser port without the need for an adapter ensures enhanced laser transmission efficiency of more than 8% compared to using a laser probe which requires an adapter.
Effect of Connecting Adapter on Transmmission Efficiency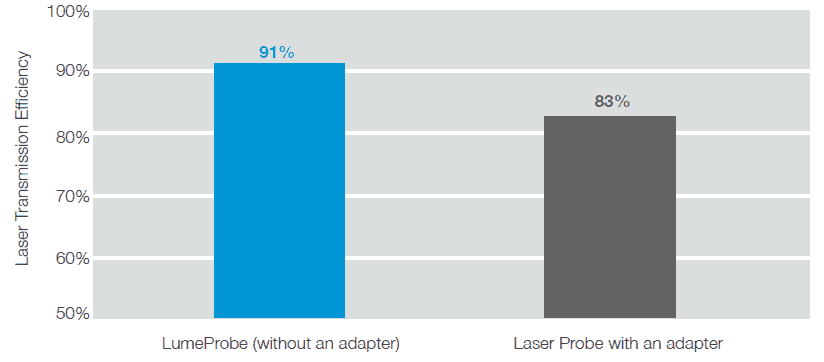 Enhanced Safety
The ability to connect the LumeProbe directly into the laser console also delivers two key safety elements during each and every procedure:
Laser parameters and power calibration remain valid throughout the procedure.

Optimized energy transmission ensures the integrity of the probe's protective polymer coating along with the adhesive bonding between the laser optical fiber and the hand-piece.
Reliability & Predictability
Advanced laser probes manufacturing techniques and sophisticated quality-assurance methodologies which are based on over 25 years of experience provide you with product reliability and predictability you can count on from case to case. The LumeProbe product family was designed to deliver the results you come to rely on and expect from a premium product in order to achieve optimal clinical outcomes time and again.
Meeting your needs
The LumeProbe product family consists of comprehensive and wide selection of ophthalmic endophotocoagulation probes to meet every clinical need and indication. These include standard, straight, curved, aspirating, illuminating and stepped in 20, 23 and 25 gauge sizes, among others.
Type
Features and Benefits

Straight


(laser probe)

Basic endophotocoagulator for non-peripheral retinal locations

Most efficient delivery of thermal energy

Ease of entry through small gauge cannulas

Curved & Stepped


(versatile)

Tapered curved for ease of entry through small gauge cannulas

Unique curve for efficient spot placement at far peripheral locations

Versatile for central or peripheral use

Illuminated


(enhanced visualization and multifunctional)

Provides direct illumination for improved visualization of retinal tears in the far periphery

Allows direct visualization from a single probe during scleral depression

Aspirating


(multifunctional)

A dual-purpose instrument provides the surgeon with higher efficiency during the procedure

Aspiration capabilities allow the surgeon to manage retinal fluids more efficiently

Both passive or active aspiration capabilities provide the surgeon with more options
23 & 25 gauge Advantage
The LumeProbe 23 and 25 gauge selection provides you with the benefits of a less invasive procedure without compromising on the rigidity and stability of the probe during the operation.
Based on over 25 years of laser probes manufacturing expertise, the LumeProbe product family was designed to deliver laser energy in the safest and most efficient manner, guaranteeing optimal clinical outcome for all relevant viteroretinal indications.
Lumenis Ophthalmology Devices