After OptiLIGHT, Patients Shoulder Smaller Burden of Traditional Home Care
August 17, 2023
Donald J. Higgins,OD
Higgins Brothers Vision Care, Plainville, Connecticut
In our referral practice, where it's common to see 10 new referrals a week for dry eye disease (DED), patients' top priority is to lighten the burden of DED. This chronic, progressive condition affects their quality of life and forces them to think about their eyes all the time. Many of them have seen multiple doctors and tried medications, artificial tears, warm compresses, punctal plugs and other therapies. For the vast majority of these patients, I choose OptiLIGHT as the cornerstone of therapy—a solution that quells inflammation, restores the meibomian glands, and diminishes demodex.
After we complete the standard series of four treatments with OptiLIGHT, my patients need little maintenance therapy. That means not only do patients get the improvement in DED that they desperately need, but they also reduce the inconvenience and expense of at-home care.
Incorporating OptiLIGHT into my practice has made a real difference in patients with meibomian gland dysfunction (MGD) and evaporative dry eye. Lumenis light therapy is the first and only that is FDA-approved for DED, and that is a strong affirmation of safety and efficacy for doctors who are considering implementing OptiLIGHT in their practice as well.
I have seen significant increases in the TBUT for each of the patients I've treated, going from a 0- to 1-second TBUT, to an average of 14 to 15 seconds in patients who have completed all four treatments.
I have never seen patients improve this much with conventional treatment methods, and this demonstrates that we can address the evaporative component in a way we just couldn't before.
Post-OptiLIGHT Home Maintenance
When we get our patients' meibomian glands functioning again with OptiLIGHT, we notice that the need for adjunct therapies drops precipitously, evidenced in follow-up exams and patient feedback. My standard advice after OptiLIGHT is to eat well, stay hydrated, and take a 2000-3000mg high-quality daily Omega 3 supplement.
I find it amazing that I rarely need to prescribe immunomodulator drops after OptiLIGHT treatment, which makes patients very happy. I still prescribe immunomodulators and do punctal occlusion (after quelling inflammation) for patients with mixed MGD and aqueous deficient DED, including most patients with Sjogren's or other autoimmune disorders. My DED patients who also suffer from demodex blepharitis need extra maintenance as well. After OptiLIGHT treatment diminishes demodex, I follow up with in-office cleaning and recommend lid hygiene therapy and sometimes ivermectin treatment at home.
I have gotten away from recommending long-term use of warm compresses after OptiLIGHT because they're unnecessary and may trigger inflammation, but I occasionally recommend that some patients with very thick meibum use warm compresses short-term during the course of OptiLIGHT treatments to clear the glands.
OptiLIGHT Maintenance Treatments
After the initial series for four OptiLIGHT treatments, we perform maintenance treatments based on a patient's status. I tell all my patients, "We will get the glands back in healthy shape with OptiLIGHT, but DED is a chronic condition. You'll always need some maintenance treatments to keep functioning at your best." To my surprise, once patients have experienced the results of four OptiLIGHT treatments, some of them actually request maintenance treatment months or years later when they want to regain those benefits.
I see patients back 1 month after OptiLIGHT to check their results and do follow-up testing, and then we schedule visits based on the severity of their DED before OptiLIGHT (in 3, 4 or 6 months). Over time, we determine if a patient needs maintenance treatment with OptiLIGHT by checking if there is significant change from their post-treatment SPEED questionnaire score, tear meniscus height, redness scale, TBUT and meibography.
Patients who suffer from DED are so happy to finally experience a change after OptiLIGHT, as well as to do a lot less home maintenance. With OptiLIGHT, we're able to make this chronic disease less of an everyday concern and burden for our patients.
LEARN HOW YOU CAN ELEVATE YOUR PRACTICE
DOWNLOAD OPTILIGHT INFO KIT
Learn about the first and only IPL FDA approved for dry eye management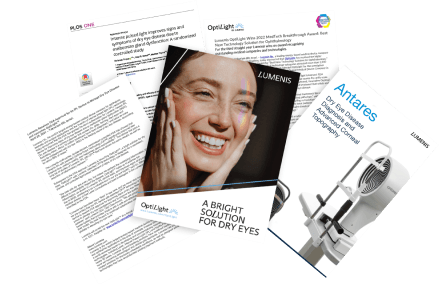 Donald J. Higgins, OD, is the founder of Higgins Brothers Vision Care in Plainville, Connecticut.
*OptiLIGHT is intended to be used by licensed practitioners, according to local rules and regulations
Indication for Use:
In EU: Evaporative Dry Eye Disease (DED), also known as dry eye syndrome or lipid tear deficiency, due to Meibomian Gland Dysfunction (MGD). This indication is intended for Fitzpatrick skin types I-V.
In US: Improvement of signs of Dry Eye Disease (DED) due to Meibomian Gland Dysfunction (MGD), also known as evaporative dry eye or lipid deficiency dry eye, in patients 22 years of age and older with moderate to severe signs and symptoms of DED due to MGD and with Fitzpatrick skin types I-IV. IPL is to be applied only to skin on the malar region of the face, from tragus to tragus including the nose (eyes should be fully covered by protective eyewear). IPL is intended to be applied as an adjunct to other modalities, such as meibomian gland expression, artificial tear lubricants and warm compresses. The indications are only relevant where they were approved by the Regulatory Authorities.
Treatment with OptiLIGHT is contraindicated for patients with the following conditions in the treatment area: Ocular surgery or eyelid surgery or Neuro-paralysis within 6 months prior to the first treatment; Uncontrolled eye disorders affecting the ocular surface; Pre-cancerous lesions, skin cancer or pigmented lesions; Uncontrolled infections or uncontrolled immunosuppressive diseases; Recent Ocular infections; History of cold sores or rashes in the perioral area, including: Herpes simplex 1 & 2, Systemic Lupus erythematosus and porphyria; Use of photosensitive medication and/or herbs that may cause sensitivity within 3 months prior to the first IPL session; Recent radiation therapy to the head or neck or planned radiation therapy; Recent treatment with chemotherapeutic agent or planned chemotherapy; History of migraines, seizures or epilepsy. Patients' eyes must be completely occluded during the treatment. Please refer to the operator manual for a complete list of intended use, contraindications and risks.
The following possible side effects can occur following IPL treatments: Pain/discomfort, damage to natural skin texture, change of pigmentation, scarring, excessive edema, fragile skin, bruising, burns, pruritus and xerosis. Please refer to the user manual or ask your doctor for a complete list of intended use, contraindications and risks.