A new collaboration with the Harrods Wellness Clinic in London, establishing a partnership of excellence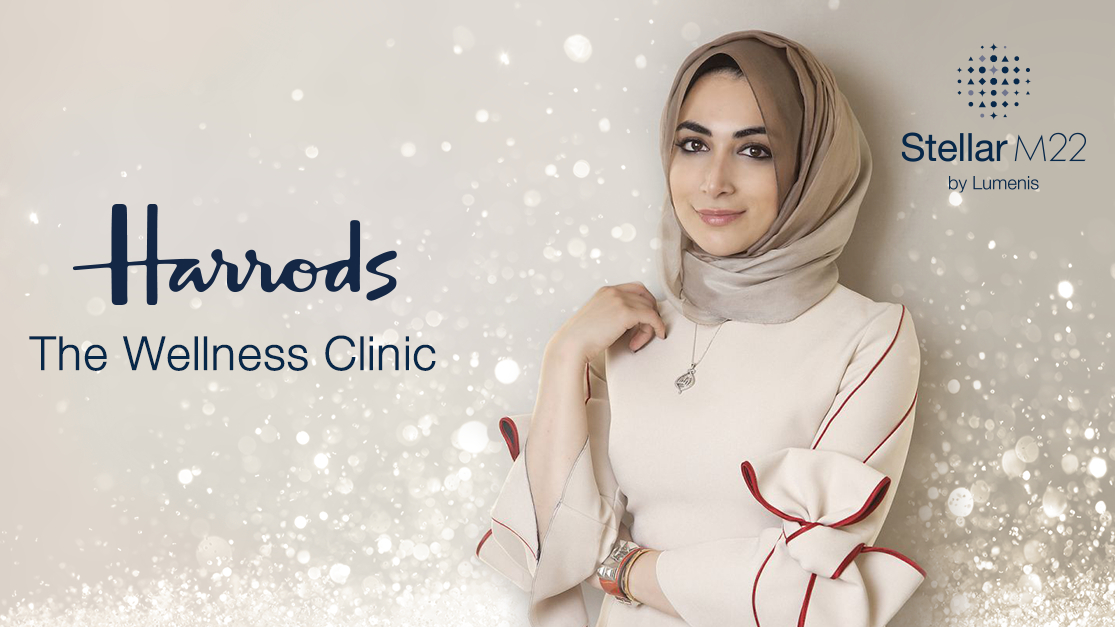 May 5, 2021 – Yokneam, Israel
Lumenis Ltd., the world's largest energy-based medical device company for aesthetic, surgical and ophthalmic applications, is proud to announce a new partnership with the prestigious Harrods Wellness Clinic, London, UK. Harrods will equip its aesthetic clinic with the Stellar M22™.
This powerful multi-application modular platform that combines IPL and lasers technologies will first be installed in the consulting room of renowned Doctor Marwa Ali. Educated at St George's University of London, holder of a post-graduate diploma in clinical dermatology at Queen Mary University of London and Member of the British Cosmetic Dermatology Group, Dr. Marwa Ali practises advanced aesthetic procedures and is renowned for her supremely natural-looking results. "We're very proud to offer one of the newest and most innovative treatments available on the market and are therefore thrilled to be adding the Lumenis' Stellar M22™ to our menu. I'm very excited by the capabilities of this system as some of the conditions it combats have previously been deemed untreatable. I can't wait to introduce my clients to the Stellar M22™ and to use it to its full potential", said Dr. Ali.
It is no less than 4 innovative technologies that Harrods Wellness Clinic will now offer to their patients:
– A versatile IPL™ applicator to treat more than 20 skin conditions, including Acne, Rosacea, Pigmented and Vascular Lesions, reduction of age spots and hair removal.
– A Multi-Spot™ Nd:YAG to deliver precise treatment of vascular and leg vein lesions on all skin types.
– A Q-Switched Nd:YAG for the treatment of pigmented lesions and Dark Tattoos removal.
– A ResurFX™, the only fractional laser with non-ablative scanner for a high-end treatment of stretch marks, scars and skin rejuvenation.
"It was only a matter of time before these two institutions met. Harrods Wellness Clinic is one of the world's most renowned institutions in the field of aesthetic medicine and Lumenis, in addition to having invented the Intensive Pulsed Light (IPL) and its applications, is a pioneering company in the medical use of laser and energy based devices.
This is not just an agreement. It's the perfect match." stated Claire Dubowski, Vice-President EMEA, at Lumenis.
Starting at the end of January, patients seeking extremely natural results in addition to state-of-the-art technology will be able to take full advantage of the treatments offered by the Stellar M22™ at the Harrods Wellness Clinic.
If you would like to learn more about this new partnership or about the Stellar M22™ please contact Mateo Bettinger, Brand Manager for Skin at Lumenis: mateo.bettinger@lumenis.com.