WEEE Information for Lumenis Customers and Recyclers
Under the Waste Electrical and Electronic Equipment (WEEE) Directive and implementing regulations, when customers buy new electrical and electronic equipment from Lumenis they are entitled to:
Send old equipment for recycling on a one-for-one, like-for-like basis (this varies depending on the country)
Send the new equipment back for recycling when this ultimately becomes waste
Instructions to both customers and recycle/treatment facilities wishing to obtain dis-assembly information are provided by following the links below.
Recycling and Take Back Services
Product Take-Back and Recycle Program
Lumenis is an environmentally conscious company committed to continuous improvement and using development and manufacturing processes that do not adversely affect the environment, that minimize waste and prevent pollution, and that minimize health and safety risks of our customers and employees.
The European Union (EU) has developed the WEEE (Waste Electrical and Electronic Equipment) directive to ensure that systems for collection, treatment and recycling of electronic waste will be in place throughout the European Union
In support of our environmental goals, effective January 2010, Lumenis have launched a formal product Take-Back and Recycle Program in Europe that complies with the European Union Directive 2012-19-EU on waste electrical and electronic equipment ("WEEE Directive").
This program will provide self-service instructions for ease of use product take-back and recycling. Equipment that is returned through this program will be handled in an environmentally safe manner using processes that comply with the WEEE Directive requirements.
This program is for Lumenis customers who have Lumenis products that have reached the end-of-life and are ready for disposal. While the WEEE Directive applies to most of Lumenis' products, it does not apply to parts, assemblies or consumables such as filters or fibers.
WEEE Information
Are you a recycler / treatment facility wanting information on how to disassemble and recycle a Lumenis product?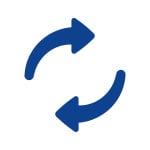 Contact Service:
Online Form
or Phone US 877-LUMENIS
( 877-586-3647 )