Significantly Improved Signs of Dry Eye Disease: Key Findings from FDA Study of Lumenis Light Therapy
November 7, 2022
As a cataract and refractive surgeon, I see how dry eye disease (DED) is intimately related to the quality of measurements we are able to obtain before surgery and thus the quality of surgical outcomes we can achieve. To ensure my measurements had the accuracy required for very precise outcomes (and happy patients), I began using Lumenis IPL with the patented OPT™ technology for patients with DED. Studies of this technology, which is used in OptiLight, have shown that treatment shrinks telangiectatic vessels, decreases pro-inflammatory markers and demodex population, and improves the accuracy of preoperative measurements.1 – 5
Can Light Therapy Really Treat Dry Eyes?
I was pleased to lead the multi-site clinical study of Lumenis light-based treatment with OPT™ technology that resulted in FDA approval for management of dry eye.6 The study team and I had all seen in our own clinical experience that the treatment targets multiple key contributors to inflammation, the underlying cause of dry eye due to meibomian gland dysfunction (MGD), providing a real and effective solution for DED. Patients told us their symptoms improved significantly, even prior to completing the full course of treatments. Many of these patients had suffered from dry eye for years, and we were very pleased to see significant improvement in the clinical signs of DED as part of the study's results.
Light Therapy FDA Study Findings
The randomized, controlled, double-blind, multi-center study included 82 patients with DED due to MGD. It showed that Lumenis light-based therapy resulted in significantly pronounced improvements in the treated study group, compared to the baseline. The full results of the study were recently published here, but I'll share some of the key findings:
The number of expressible glands increased almost 7-fold.
Tear breakup time was 1.5 times longer.
Meibum quality improved more than 3-fold.
Patients felt significantly less pain during meibomian gland expression.
No adverse events related to light treatment were observed throughout the study.
How Does Lumenis Light Treatment Work?
With dramatically more expressible glands, longer tear breakup time, and higher quality meibum, the essential pieces are in place for a healthier ocular surface. Based on the significance of the positive clinical outcomes proven in this milestone study, Lumenis light treatment with OPT™ technology for dry eye management earned a de-novo FDA approval – the strongest affirmation of safety and efficacy. The technology is incorporated into OptiLight, which we have been using for some time in our practice. DED improvement is a life-changing result on its own for patients suffering from this condition; in my practice, it also helps us to achieve our preoperative goal to optimize patients' ocular health for keratometry and topography, resulting in accurate intraocular lens calculations that support precise surgical outcomes.
LEARN HOW YOU CAN ELEVATE YOUR PRACTICE
DOWNLOAD OPTILIGHT INFO KIT
Learn about the first and only IPL FDA approved for dry eye management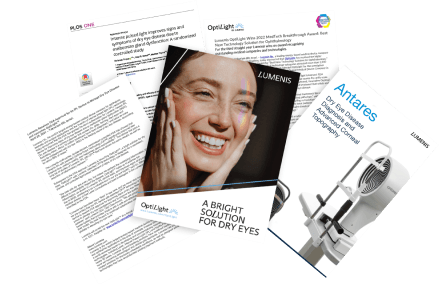 1. Kassir et al. (2011) J Cosmet Laser Ther 13(5):216-22.
2. Papageorgiou et al. (2008) Br J Dermatol 159(3):628-32.
3. Liu et al. (2017) Am J Ophthalmol 183:81-90.
4. Yin et al. (2018) Curr Eye Res 43(3):308-13.
5. Prieto et al. (2002) Lasers Surg Med 30(2):82-5.
6. Toyos R, Desai NR, Toyos M, Dell SJ (2022) Intense pulsed light improves signs and symptoms of dry eye disease due to meibomian gland dysfunction: A randomized controlled study. PLoS ONE 17(6): e0270268.
PB-00043680, Rev A
PB-00054400, Rev A