The Technology Behind The LightSheer DESIRE Light
LightSheer® DESIRE™ Light uses a 805nm diode wavelength, an industry standard for permanent hair reduction for all skin types.
The high fluence ChillTip™ technology, a cooled sapphire that chills the skin before and during treatment, offers treatment efficacy and patient comfort.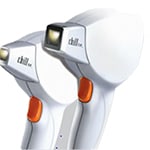 Advanced Graphical User Interface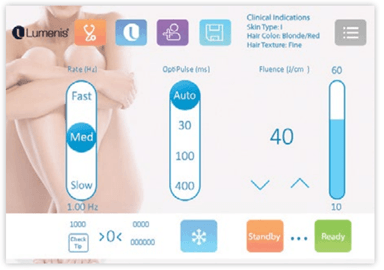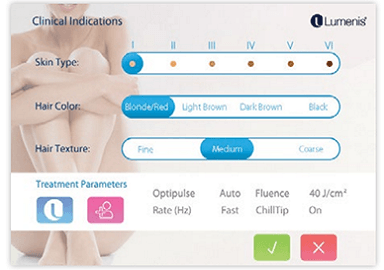 Advanced Graphical User Interface
Intuitive presets for fast learning curve and easy treatment delegation.
Hair removal, permanent hair reduction, and the treatment for Pseudofolliculitis Barbae (PFB).

Treatment of vascular lesions, including angiomas, hemangiomas, telangiectasia, leg veins and other benign vascular lesions.

Treatment of benign pigmented lesions.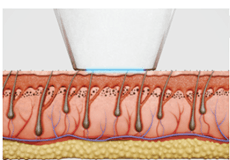 Skin is cooled before and during treatment.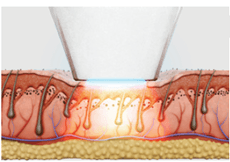 Skin is compressed. Laser beam applied to skin and target is damaged
Advantages Of ChillTip™ Technology
Safety: epidermal protection is achieved through ChillTip contact cooling

Comfort: by continuously cooling the skin, pain and discomfort are significantly reduced.

Efficacy: Compression of the skin rotates follicle closer to the surface, blenches blood vessels and reduces competing chromophores.

High fluence enables treatment of areas requiring precision as well as thin, light hair.
Platform
LightSheer@ DESIRETM Light
Handpiece
XC
ET
Technical Specifications:
Laser Type
AIGaAs Diode Arrays
AIGaAs Diode Arrays
Wavelength
805 nm (nominal)
805 nm (nominal)
Spot Size
12 mm X 12 mm
9 mm X 9 mm
Repetition Rate
Up to 3 Hz
Up to 3 Hz
Pulse repetition
1 Pulse
1 Pulse
Fluence
10-40 J/cm2
10-100 J/cm2
Pulse Width
5-400ms
5-400ms
Peak Power
1920 W
1620 W
Comfort Management
ChillTip contact cooling (5oC)
Preset Parameters
Yes
On-Site Service
Yes; Replaceable handpiece
Platform Specifications :
Electrical
100-240 VAC +/- 10%, 12 A max.| 50160 Hz. | Single-phase grounded outlet
Dimensions (WxDxH)
51 x 60 x 42 cm; (20.1 x 23.6 x 16.55 in)